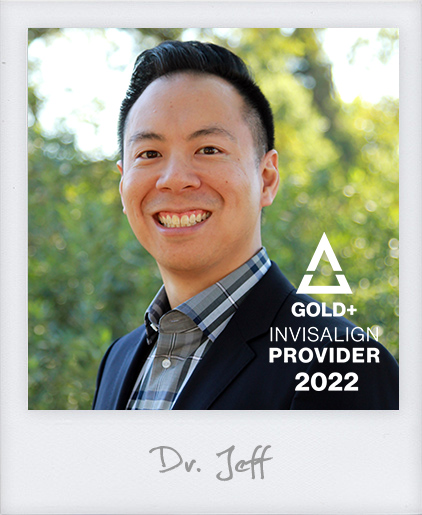 Dr. Jeffrey Kwong, fondly known as Dr. Jeff, earned his dental degree at Case Western Reserve University in Ohio. He then stayed on to complete his orthodontic specialty training where he received the clinical award at his graduation. At Jeffrey Kwong Orthodontics, he relies on his extensive experience and education to offer attentive, personalized orthodontic care and outstanding results.
Book a Virtual Consultation
Start your smile journey today with our virtual consultation feature. Connect with the best El Dorado Hills orthodontist Dr. Jeff from the comfort of your home!
Braces
Treatment
Braces treatment has come a long way and we've got options ranging from traditional metal braces to more under-the-radar choices, including clear ceramic braces, and INBRACE behind-the-teeth braces.
Invisalign
Treatment
Virtually invisible, convenient and comfortable, Invisalign hits all of the items on your orthodontic treatment wish list. The series of clear, plastic aligners allow you to straighten your teeth without braces.
What Our Patients Are Saying
Dr. Kwong is one of the nicest people I have ever had the pleasure of meeting. He always makes my appointments somewhat enjoyable and it doesn't hurt that he made my teeth straight as well!!

Emma S
Dr Kwong by far is one of the best doctors I've seen. I am a adult patient receiving Orthodontic care and I have been so impressed with my treatment plan, my results are looking amazing.
He is so personable with his patients. His staff is extremely professional and cheerful each and every time I go in.

Brenda S
An amazing experience! All of the staff was extremely helpful and always willing to go above and beyond. Also a vey friendly and welcoming environment for all ages. Very happy with my results, wouldnt go to anyone else!

Keiko P
Amazing care for my daughter, Meena. Being a dental professional myself, I appreciate Dr Kwong's professionalism but his charisma helped to put my daughter at ease. Needless to say very friendly staff as well

Kevin C
Hands down the best orthodontist there is. You get nothing but the best treatment, with nothing but the best staff, who truly care about you. I actually looked forward to my appointments, because everyone there made it feel like a second home. Wouldn't recommend anyone else but Jeffery Kwong Orthodontics.

Sean C
Dr. Kwong is nothing short of amazing. My son had several issues with his teeth and was referred to Dr. Jeff. He was very patient, and explained everything and truly gave me great confidence in the plan for my son. Just this week, he got his braces off and his teeth look amazing! And, my son is now smiling! Thank you Dr. Jeff!!! Great staff and amazing doctor!

Quinn H
We know you're busy and we pride ourselves in getting our patients in for an appointment right away. If you're ready for a brand new smile, let's talk. We'll help you choose a treatment option that truly works for you.