What are InBrace® Invisible Braces?
InBrace® was developed at the University of Southern California by the orthodontic and engineering teams, so you know they're next level! These invisible braces have low profile brackets and customized Smartwires™, making them your choice for comfortable, no-fuss braces in El Dorado Hills. Enjoy the experience of braces with light, continuous force you'll barely feel and a unique, locking loop design that holds the Smartwires in place without sliding or friction. You can even floss as you normally do between the loops! And unlike traditional lingual braces, InBrace invisible braces only require a few elastics.
With InBrace®, you get the most customized braces option in El Dorado Hills. Dr. Jeff uses in-depth digital treatment planning to map out your bracket placement and Smartwires™ design for precision braces that result in little patient participation. Yes, that means fewer visits and shorter treatment time than traditional braces — a bonus for people with busy schedules.
InBrace Patient Testimonials
Contact your El Dorado Hills orthodontist today.
Dr. Jeffrey Kwong, fondly known as Dr. Jeff, knows firsthand how a new, healthy smile can change your life. He earned his dental degree at Case Western Reserve University in Ohio, then stayed on to complete his orthodontic specialty training where he received the clinical award at his graduation. He relies on his extensive experience and education to offer the award-winning attentive care and outstanding results he's known for as an El Dorado Hills orthodontist.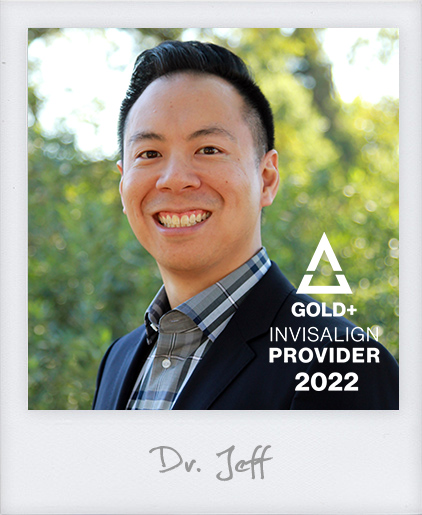 Trust InBrace® to straighten your teeth with the proven results of braces but without tell-tale hardwire every time you smile. Bonus? Getting them on is totally pain-free and wearing them is typically more comfortable than traditional braces.

With less visits to the orthodontist and no keeping track of clear aligners, InBrace® lingual braces allow you to keep living life on your schedule. Plus, you'll reveal a brand new smile even sooner than you think.
Unlike traditional lingual braces, InBrace uses Smartwires™, a high-tech wire system that's pre-programmed to move teeth to their final positions right from the get go. No adjustments needed!

Does your teen need braces? InBrace is great for teens who want a straight, functional smile without the appearance of braces and with minimal effect on their day-to-day routines.

We believe everyone deserves a beautiful, functional smile. As the only El Dorado Hills InBrace® orthodontist, we work with you to create a treatment plan that produces fantastic results and won't break the bank.
If the look or function of your teeth is holding you back, InBrace® can help you turn that frown upside down with the dream smile you've always wanted.
What Our Patients are Saying
Hands down the best orthodontist there is. You get nothing but the best treatment, with nothing but the best staff who truly care about you. I actually look forward to my appointments, because everyone there made it feel like a second home. Wouldn't recommend anyone else but Jeffrey Kwong Orthodontics.

Sean C.
Outstanding experience! This is the kindest and friendliest orthodontic office I have ever been to. A welcoming, super clean place. Dr. Kwong is personable and professional, excellent at explaining every step of the way, as well as possible treatment options, and he is absolutely great with kids!

Georgia R.
Dr. Kwong is by far one of the best doctors I've seen. I am an adult patient receiving orthodontic care and I have been so impressed with my treatment plan; my results are looking amazing. He is so personable with his patients. His staff is extremely professional and cheerful each and every time I go in.

Brenda S.
Dr. Kwong is nothing short of amazing. My son had several issues with his teeth and was referred to Dr. Jeff. He was very patient and explained everything and truly gave me great confidence in the plan for my son. Just this week, he got his braces off and his teeth look amazing! And, my son is now smiling! Thank you, Dr. Jeff! Great staff and amazing doctor!

Quinn H.
Book a free orthodontic consultation today with Jeffrey Kwong Orthodontics.